Honour your beauty, strength and vitality.
Step into a higher dimension of love and peace.
The ZEST Wisdom Circle is a safe and sacred space for women to come together. For centuries, women have gathered in a circle to practice and cultivate ancient teachings and traditions. 
Linda is well versed in the ancient healing traditions of women. Similar to aboriginal teachings, she utilizes the wheel for the teachings. This is not religion. You are joining a long line of women who connect with the natural and spiritual worlds.
This is an interactive workshop where you'll gain a better understanding of your energy and how to trust it to guide you. Discover more about yourself and how to explore and expand your joy, passion and enthusiasm. 
"There is so much I took away from sharing with these groups of women, facilitated by Linda, than I ever would have received alone. It was a safe place to share, open up, laugh, cry and sometimes just listen. I have attended Linda's speaking engagements, have read her book, ZEST Your Life, so I thought I knew what to expect from the ZEST Wisdom Circle. I was wrong; it was so much more."  
~ Tracy Jenks Wilson
Join me, Linda Babulic, for an afternoon of releasing your barriers to freedom, moving to a place of power and rediscovering joy.
Can you awaken to the possibility that there is a more powerful, exciting and impressive person inside you?
You are being called to awaken the power within. You know you deserve more in your life. Now is the time.
Come join me and other women and experience a space that inspires, motivates and provides women with the courage to try something new and make dreams become reality.
At the ZEST Wisdom Circles, you'll:
Learn to honour your beauty, strength and vitality

Discover what makes your power grow and what holds it back

Master your fears

Gain clarity and focus for your life goals

Rise to higher levels of love and peace

Laugh, learn, listen, open your heart and embrace the ZESTY woman that you are
I look forward to meeting you!
Third Sunday of each month, 1:00 pm – 4:30 pm
Sep 17 | Oct 15 | Nov 19 | Dec 17 | Jan 21 | Feb 18 | Mar 18 | Apr 15
The Freedom Wheel of Power
February 18, 2018
The final instalment of the Freedom Wheel of Power.
Orgasmic Sexual Freedom is the passion to openly and honestly express your authentic life force energy. It involves taking the lid off of your energy and showing your beauty, gifts, and talents to the world. It is the centre – the core – that drives and makes all the directions possible. This is the catalyst that holds all the power and energy of the emotional, physical, mental, spiritual, and orgasmic aspects together and enables you to ZEST Your Life!
Having freedom takes courage. You cannot have freedom without courage. Life is too short to not be living your heart's desire.
Pre-registration required. Limited seating.
Olga's Way, 1344 Youville Drive, Orleans, ON K1C2X8
Fee: $56.00 per person, bring a friend $102 for both of you.
Seating is limited – register today. Confirmation with payment in full by etransfer to Linda@LindaBabulic.com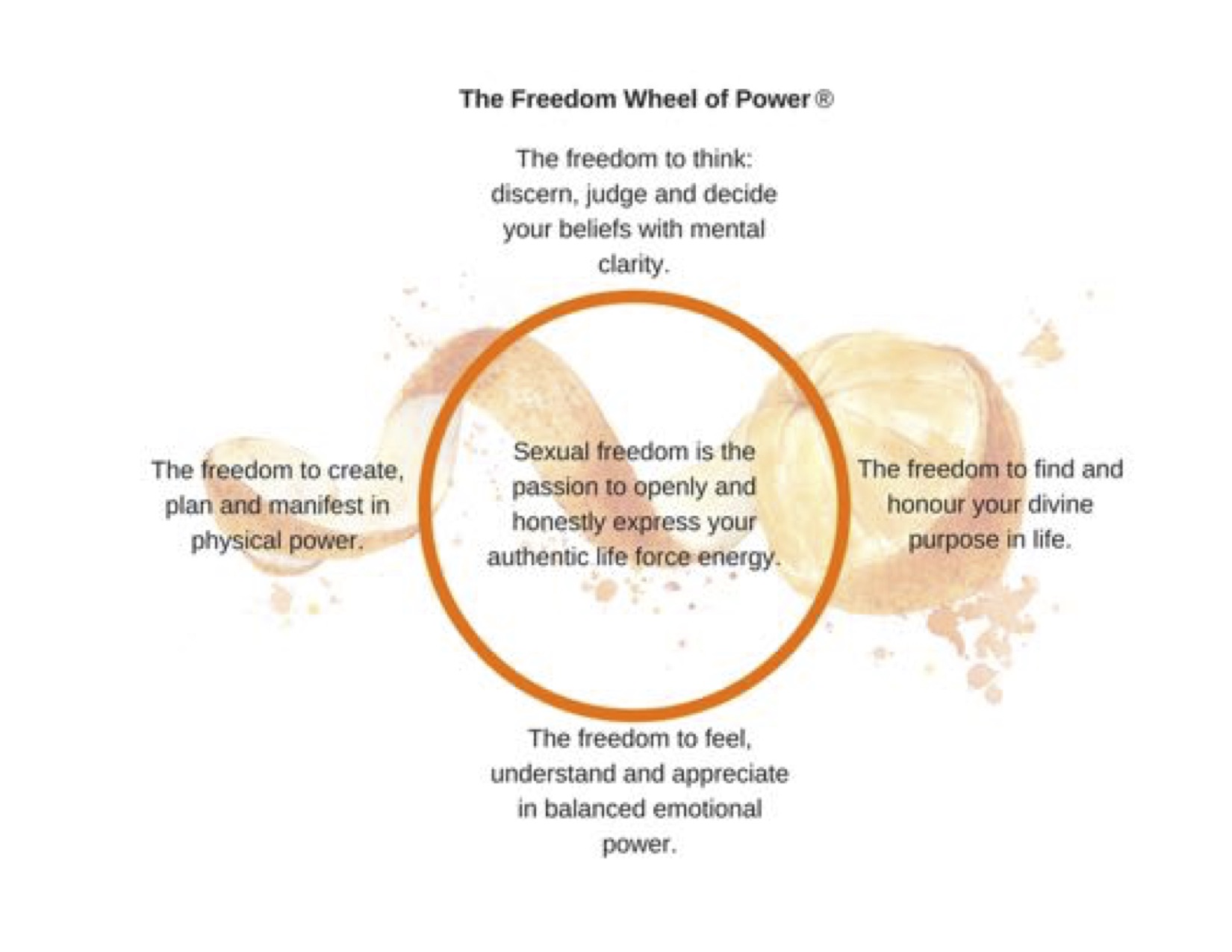 "I attended the ZEST Wisdom Circle on a day that I was feeling quite conflicted. By the end of the few hours, with Linda's guidance, I learned that it's okay to say 'no.' Ever since then, I have been listening to my internal voice and most importantly, saying 'no'. I highly recommend the ZEST Wisdom Circle."
~ Vicky Langton
– – – – – – – – – – – – – – – – –
"I wanted to write to say thank you for the last two Women's Circles I attended. I was at a time of transition in my life and entered your group feeling emotional. You embraced me with strong open arms and coached me through my struggles. This helped me to see clearly what steps I had to make for myself moving forward in a positive fashion. Your intuition is very accurate and this helps to pinpoint and address the issues right away. You have created a fun, safe and open environment for women and I am very lucky to have found you! I look forward to more inspiring times with you." 
~ Jennifer Knight
– – – – – – – – – – – – – – – – –
"When I met Linda and joined her first ZEST session it was an intimate group. I immediately felt welcome and loved. There was no judgement on my situation that I was dealing with. In fact, it was justified and embraced. I cried the whole session whenever I spoke of my life challenges and transitions. It was a huge relief to be able to talk to like-minded women who understood and accepted me. Linda's strong intuition got to the root of my problem quickly so we could talk it out and heal. 
Linda was amazing at following up with me and seeing how I was doing. In just one session I gained the emotional strength to deal with the issues and insecurities I was dealing with at the time. 
Today I have been spiritually stronger and thank Linda for all of her support."
~ Jennifer Knight (second testimonial, months after attending)
– – – – – – – – – – – – – – – – –
"I loved my experience with ZEST Wisdom Circles. Linda creates a warm sense of connection within the group. She leads the discussion with a brilliant combination of strength, authenticity and vulnerability. 
I felt I had an instant network of supportive women. I learned new ideas that I put to use immediately. It gave me just the push and confidence boost I needed. I am looking forward to the chance to go again."
~ Colette Kaminsky, Founder of the Ottawa Women's Leadership Network
"A Workshop to Remember.
Among things that interest and fascinate me are human stories and the power of feminine energy in effecting healing and betterment. This interest attracted me to Linda Babulic's book, ZEST Your Life, and her ZEST-based workshops, the popularity of which has been on a constant rise. Linda, a woman who exudes wisdom and formidable strength of spirit welcomes her workshop participants in an ambience filled with vibrations of warmth, trust and uplifting energy.
The workshop I attended began with a circle of meditation and a smudging ritual, both creating instant feelings of interconnectedness within the sacred feminine. The ritual was followed by a roundtable of introductions, sharing of stories and discussions of the monthly ZEST topic, which was 'Women and Time Management'. 
Because the workshop was the first one of its kind I attended, I felt a bit like a voyeur peeking into human hearts. And with ease and trust, the hearts opened up oozing out tales, wounds and obstacles that had to be surmounted. The suppressed and internalized pain found an opening through which it was shared with other women and cradled by them with love and compassion.  
Linda is a conduit, helping women reconnect with their inner wisdom and intuitive powers, let go of the past, find and offer forgiveness, open up to life with love and trust, and most importantly, change their lives and mould them into the desired outcomes. Linda is a coach that shows women clear signposts toward a life of realized dreams."
~ Jana Begovic, author of "Poisonous Whispers"